---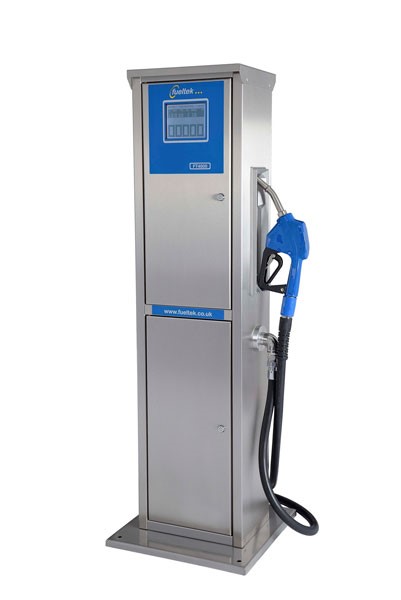 Why AdBlue Solutions Work
AdBlue is a non-toxic, colourless substance that is intended to work alongside a recently developed technology called Selective Catalytic Reduction. AdBlue's injection into a vehicle's exhaust occurs before harmful substances like nitrogen oxide are expelled from the exhaust. Once the AdBlue is injected, the exhaust emissions will consist only of Nitrogen and water vapour: natural gases that pose no environmental risk.
AdBlue Storage Options for Your Business
With the introduction of Euro 6 Emissions Standards, AdBlue will become ever more common within the transport industry and, because of that, proper storage and monitoring of your AdBlue tanks is essential.
Fueltek AdBlue pumps – such as the FT4000AB – come with a 12-month part warranty and operate at a standard speed of 35 litres per minute. The FT4000AB is the perfect solution for accurate dispensing and monitoring of your AdBlue tank. The FT4000AB is available in a number of configurations and can be specified as a pump or dispenser only, which has the ability to connect to any fuel management system through an in-built pulsed output, or as combination/Integrated AdBlue pump /AdBlue monitoring system. Interestingly, the monitoring system (even when integrated with the AdBlue pump) can control and monitor 3 other external fuel pumps of any product type.
Fueltek can offer bunded fuel tanks for storing AdBlue; these tanks can be compartmentalised to store diesel and AdBlue, and fitted with a Twin FT4000 dispensing diesel and AdBlue.
Visit Fueltek's blog about the benefits of AdBlue to learn more about why you should consider integrating AdBlue solutions into your fleet operations.
Contact Fueltek for AdBlue Tanks & Solutions
To enquire further about AdBlue storage tanks, pumps or other solutions with FuelTek, don't hesitate to contact us today. We offer a complete service that covers everything from the requirements of your site to the standards that relate to electricity or the environment, so feel free to get in touch with us for more detailed information.