How To Best Store Your Fuel
Fuel is a precious commodity in the fleet management business, so ensuring you store it in the safest way possible is vital to your company's success.
Preventing any fuel spoilage, loss or theft should be high on the list of priorities for any fleet manager, as fuel is one of the biggest expenditures (if not the biggest) a fleet management business will incur throughout the year.
With a shelf life between 6-12 months, diesel begins oxidising as soon as it leaves the refinery; storing this fuel correctly is absolutely vital for your fleet's success, as any loss through spoilage is sure to bring profits crashing down.
So how can you be sure you are storing this fuel in the best possible way to protect it from theft and ensure its on-going quality?
What Is the Best Way to Store Fuel?
Bunded fuel tanks are a fantastic option for storing your fuel on-site in a safe and cost-effective way. This type of tank is one of the most secure ways to store fuel on the market today. In essence, a bunded fuel tank is a tank within a tank – this means that in the case of a spillage or leak, the outer tank will be sure to keep all the fuel contained. The outer tank (or bunded layer) has a minimum capacity of 110% of the inner fuel tank, ensuring that no fuel will spill from the tank.
Depending on the size of your fleet, bunded tanks come with capacities from 1000 litres right up to 200,000 litres and are available in a whole host of designs to best fit your specific requirements. Bunded tanks can feature re-circulating pumps to eliminate the risk of microbial growth, and an array of alarm features to warn of everything from water ingress to short deliveries.
So there really is a bunded tank to suit any fleet management business, big or small. It's also vital to know that any commercially-used fuel storage tank that stores more than 200 litres of fuel must be bunded according to The Guidance for Pollution Prevention.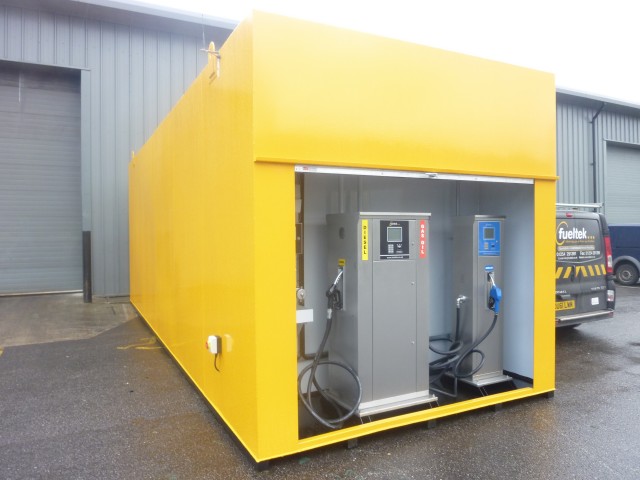 Available in a variety of sizes, these tanks also conform to BS799, BS2594/prEN12285 and BS2654 standards, and exceed recommendations made in the control of pollution regulations.
Bunded tanks also have the option of being easily transported to another site. This is a fantastic and flexible option if your operation base is likely to change throughout the life of the bunded fuel tank.
Storing Fuel in Cold Weather
With the winter months upon us, storing fuel can become troublesome if your fleet doesn't possess the correct equipment to deal with the sub-zero temperatures.
Waxing can be a real issue with diesel when temperatures drop below 0oC – all forms of diesel fuel contain some wax, and the cold weather can cause the wax in the fuel to crystalize, and therefore solidify. In periods of extended cold, this can block fuel storage tanks and prevent fuel from being pumped out.
Thankfully, bunded tanks also offer some protection from waxing issues, as they have a double layer of protection, with an interstitial space between the inner and outer tank walls as well as a minimum thickness of 3mm steel on small tanks (6mm on larger tanks).
Full Fuel Management Package
To ensure you are fully reaping the benefits of your bunded fuel storage tank, you can take advantage of the following to maximise the savings to your fleet:
Tank Content Gauge – this will give you a visual representation of your fuel. Fueltek's own Tankwatch fuel tank monitoring system allows users to accurately track the contents of their fuel tank. This is great for fleet managers who are looking to track their fleet's fuel usage and is also useful for ensuring they know when the fuel tank needs filling.
Fuel Dispensers – connected directly to your fuel tank, fuel dispensers ensure your fleet are able to efficiently pump fuel out of the tank.
Pairing your bunded fuel tank with a complete fuel management package ensures that your fuel is safely stored and gives you a fantastic overview of fuel usage. It's also a great deterrent to fuel theft, as the bunded tank is extremely secure; it comes fitted with a lockable fill point, and fleet managers are able to monitor when fuel is dispensed from the tank from the use of fuel cards at the pump.
Fueltek have a range of fuel storage tanks to suit your specific needs. For an added layer of security, all Fueltek FS fuel tanks are provided with a 20-year manufacturer's guarantee and can be easily integrated with fuel management systems.