Success Stories of Fuel Management Solutions at Fueltek
As one of the UK's leading providers of onsite fuel systems, we have earned a reputation for delivering reliable, efficient solutions that meet the needs of businesses across a broad range of sectors.
Our team is proud of the positive impact our systems have had on our client's fuel plans, and we are certain it's a testament to the expertise of our teams and the quality of the products we use. Read on to explore a few examples of our success stories and how our fuel management systems improved their daily operations.

Norfolk Fire & Rescue
When Norfolk Fire & Rescue approached us for a fuel management system, we knew their challenges in keeping their emergency response vehicles on the road, and we were well-equipped to help them streamline their fuel operations and optimise fuel usage.
The Challenge: No Local Fuel Dispensing
The stations had no existing fuel management system across their sites, making managing fuel efficiently while keeping their emergency vehicles on the road challenging. In addition, since most of the sites were quite remote, the new fuel dispensing sites had to be strategically positioned to serve each site effectively, making it more convenient for the outlying fire stations.
The Solution: Complete Fuel Management Package
We worked closely with Norfolk Fire & Rescue to provide customised solutions that included strategically positioned systems that could serve the entire county effectively from the four locations. Fortunately, our existing comprehensive package already had everything they needed.
As part of the complete fuel management system package installed at Norfolk Fire & Rescue's sites, we installed the following systems:
Bunded fuel storage tanks. These tanks are a versatile solution to fuel storage, available in several configurations to suit each customer's needs.
FT4000 fuel monitoring system. This system is backed up by our Fuel Manager Online (FMO) browser-based software, allowing customers to monitor fuel consumption from anywhere with an internet connection.
Results: Superior Fuel Optimisation and Availability
As Norfolk Fire & Rescue had never worked with fuel management before, we made training and education on the system a key factor in the project. Our goal was to provide comprehensive support, educate our clients on the principles of fuel management, and ensure that they're well-equipped to see how onsite fuel storage and dispensing improves response times long-term.
With this goal achieved, Norfolk Fire & Rescue is confident in its capabilities and the fuel systems we put in place.
Samuel Smith Old Brewery
One such project that exemplifies our ability to tailor our technology to meet the needs of every size of business is our partnership with Samuel Smith's Old Brewery. They rely on 65 vehicles to deliver their high-quality beer across the UK and must have a reliable fuel supply available for their drivers daily.

The Challenge: Outdated Fuel System
When Samuel Smith's approached us, they already had existing fuel monitoring systems in place, but it was outdated and needed modernisation. The project's main goal was to install software to their existing pump, allowing them to restrict access to fuel to authorised vehicles only and improve reporting.
The Solution: Secure Fuel Monitoring
We recommended the FT4000 fuel management system be installed in the Control Terminal at the fuelling location and integrated with their existing fuel pump. This installation gave Samuel Smith's complete control over fuel dispensing, ensuring only authorised vehicles could access fuel and is accessible from anywhere via the internet, providing real-time monitoring and streamlining the reporting process.
One of the key features of our solution was the use of secure bunded diesel tanks. These tanks provide enhanced security and comply with regulations to prevent fuel leakage and contamination. Our accurate fuel dispensers also ensured precise and efficient fueling, reducing errors and wastage. The combination of secure fuel storage and accurate dispensers improved fuel control and increased operational efficiency for Samuel Smith's Old Brewery.
Results: Increased Fuel Security
Since implementing our fuel management solution, Samuel Smith's Old Brewery has experienced a significant positive impact. They now have better control over their fuel usage, which has resulted in a reduction of unauthorised fuel usage and an increase in operational efficiency.
Our partnership with Samuel Smith's Old Brewery is a perfect example of how our technology can seamlessly integrate with existing infrastructure and deliver tangible results. By enhancing fuel security and control, we have empowered Samuel Smith's to focus on their core business while reducing costs and ensuring the efficient use of their fuel resources.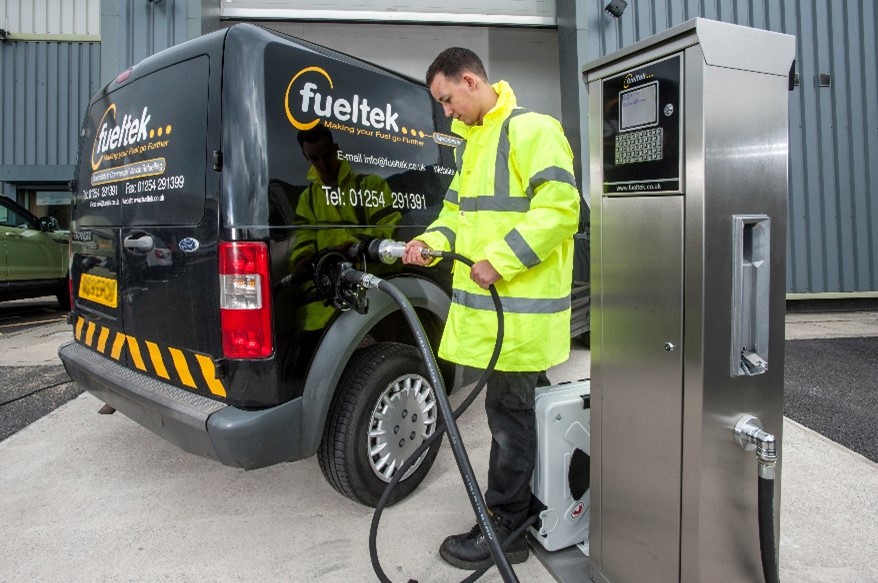 Dependable Fuel Management Systems from Fueltek
Here at Fueltek, we take immense pride in providing our clients with the highest-quality fuel management systems. Our expertise lies in designing, installing, and maintaining complete fuel management packages bespoke to the client's specific needs.
We are proud to say that our client's success is our success. Our personalised and friendly service has earned us a strong reputation for working with both large organisations and smaller businesses. Our team is dedicated to being a trusted partner in our client's journey towards efficient and effective fuel management. Contact us to discover how our systems will improve your business operations.