Defining Fuel Monitoring and Fuel Management
Commercial vehicle refuelling is an integral part of many business operations, both large and small. Many industries rely on fuel management to keep costs down whilst remaining efficient and operating smoothly, but what that fuel management looks like will differ depending on the demands of the individual businesses.
As experts in fuel management, Fueltek has helped companies of all sizes to achieve consistent and accurate results when it comes to their fuel usage. Our areas of expertise cover all aspects of commercial fuel usage. As a result, you will find the terms fuel management and fuel monitoring used frequently when referring to our products and technologies – but what's the difference between the two? Today, we're defining fuel monitoring and fuel management to give our customers a better understanding of how they fit together.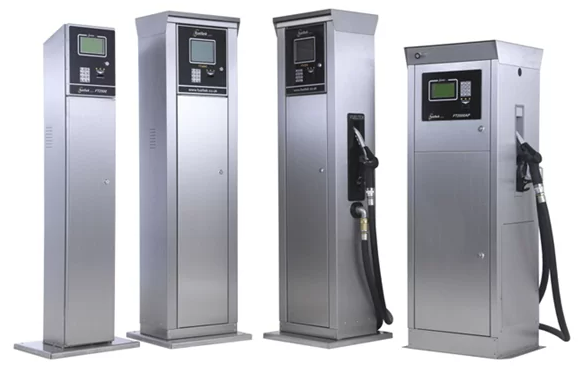 What is Fuel Monitoring?
As the name suggests, fuel monitoring systems like our FT4000 range are designed to monitor your company's fuel usage and offer complete control for commercial operations dispensing on-site fuel to authorised vehicles. In simple terms, they allow you to see how much fuel is being dispensed and who is dispensing it.
The fuel monitoring systems available from Fueltek can be broken down into two parts that support each other in ensuring accurate monitoring of your company's fuel transactions; the hardware and the software.
The Hardware – Fuel Access Control Terminal
The fuel access control terminal (FACT) is the physical hardware installed at the refuelling station that the vehicle refueller interacts with to authorise dispensing fuel. Our FT4000 range is available as a stand-alone, wall-mounted unit or pedestal, both of which can integrate with existing fuel dispensing equipment. The unit is hardwearing, with a heavy-duty keypad and support from multiple different access methods such as Datatags and Datanozzles. Models like the FT4000AP and the FT4000AP TWIN come with built-in fuel pumps for those who want their FACT physically integrated into their dispensing equipment or are looking to replace their existing dispensing set-up.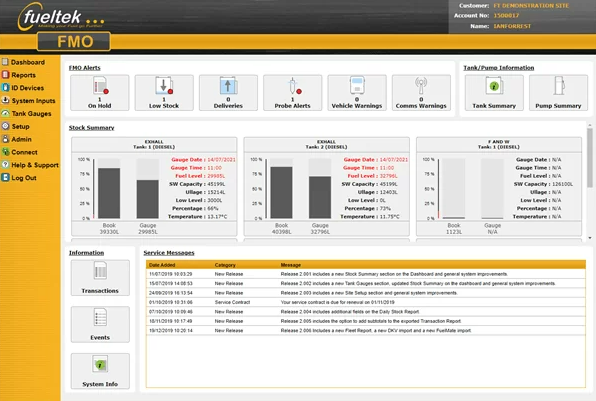 The Software – Fuel Manager Online
The FACT terminal is supported and backed up by the Fuel Manager Online (FMO) software, communicating with the FACT either through GPSR, a LAW/WAN network, Bluetooth, Wi-fi or even through cabling. Online fuel management allows for access device programming, real-time reporting on fuel usage, stock control, and many other functions, all of which can be carried out remotely.
Combined, the FACT and the FMO make for robust and precise fuel monitoring – but how does this differ from a fuel management system?
Fuel Management – The Complete Package
Besides dispensing and monitoring throughputs, there are many other aspects of commercial fuel use. For example, to keep fuel on-site, you may need a bunded fuel tank, alongside tank monitoring to protect your stock from fuel theft or leakages. The combination of monitored dispensing equipment, fuel storage and monitoring and software support from the FMO is what we call The Complete Fuel Management Package, a system that has everything you need to create a dedicated fuel station at your refuelling site. Fuel monitoring is just one element, so let's look at what else is included in the complete package.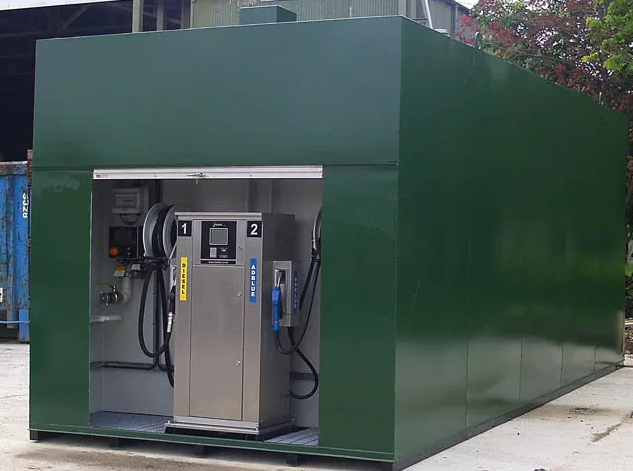 Fuel Storage Tank
Our fuel storage tanks are a secure and safe way to store fuel on site and connect seamlessly with our fuel monitoring and dispensing equipment. In addition, your tank can be compartmentalised to allow for storage and dispensing of multiple products, diesel and Adblue, for example. The capacity, shape and colour of the overall unit are customisable to fit your needs, and all storage solutions from Fueltek conform to the following standards:
BS799
BS2594/prEN12285
BS2654
TankWatch
Much like the FT4000 fuel monitoring range, our TankWatch system monitors bulk fuel storage by providing accurate real-time reporting on current stock levels, ullages, stock movements, unusual stock movements and throughputs. It is the perfect partner to the FT4000 and gives you a complete picture of your fuel stock. It also provides peace of mind that any suspicious movements in fuel stock will be detected and an alert raised. As part of the complete package, the TankWatch hardware interfaces with the FMO for comprehensive fuel management, no matter where you are.
Dispensing Equipment
We touched upon how the FT4000 fuel monitoring range can be physically integrated into a fuel pump, and the situation is no different with the complete fuel management package. As part of your custom on site fuel station, Fueltek has a range of dispensing equipment options suitable for all types of fuel, with different specifications depending on the demands of your business. For example, the FT4000 HSP offers high-speed fuel dispensing, perfect for the transport sector, and our twin pumps can be configured to dispense two different types of fluid, an excellent choice for those who require both diesel and Adblue dispensing.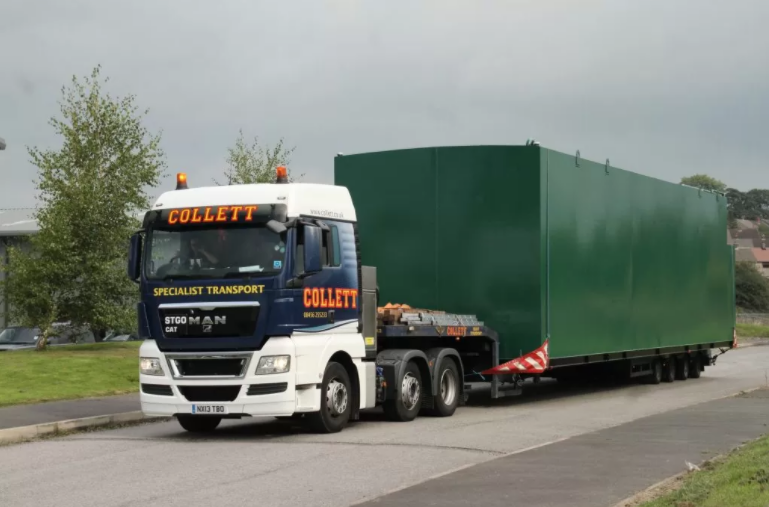 Comprehensive Fuel Management
Everything in the fuel management package is assembled and installed before delivery. Then, when your fuel station arrives at your site, our engineers only have to connect to a power supply, and the process is as noninvasive as possible.
Whether you opt for fuel monitoring or the complete fuel management package, the training and ongoing support you'll receive from us will ensure you get the most out of your fuel, improve fleet efficiency and have complete control over your fuel. If you are interested in finding out more about how our products can help your company, browse our brochure and fill out our enquiry form today, and we'll be in touch.